Magna Design Office Furniture - Series Fifty Collection



Built upon an American-hewn heritage in the Pacific Northwest, Sustainable Beauty is the true essence of Magna Design and reflects our commitment to the fine craftsmanship of modular office furniture and a comprehensive offering of conference tables and furnishings. Freestanding, easy to modify and specify, Magna Design's comprehensive office furniture solutions meet the demands of the modern workplace - masterfully designed and mindfully made.



Series Fifty Advantages





Series Fifty provides refined, clean lines and a lighter scale suitable for executive offices and small workstations. Hardware and finish options enhance both contemporary and transitional aesthetics while efficient surface shapes make the most out of valuable real estate. Series Fifty's architecturally inspired office solutions are designed with today's team in mind.

Click here

for Series Fifty Brochure and Series Fifty Finishes.





Private Office Furniture



Standard desk components may be accented by a variety of worksurface shapes to create an inviting meeting area for guests. The flexibility to create personalized desk configurations makes Series Fifty ideal for multi-function private offices. Series Fifty's warm wood panels and steel column legs timelessly pair traditional executive aesthetics and modern design. Wedge, Bow Front, Bow End, and Bullet Worksurfaces Detailed WoodPlus™ or Hardwood Edges Over One Dozen Finish Options


Conferencing desk with ped return, hutch with

tackboard, storage tower

EDGE DETAIL - WoodPlus PVC, Reeded

FINISH - Chestnut






Rectangle desk extension with combo storage credenza,

wall mounted overhead, storage tower and lateral file

EDGE DETAIL

- WoodPlus PVC, Smooth

FINISH

- Cognac






Wedge desk in u-shape assembly, hutch with paper shelf
and tackboard, dual ped and storage tower
EDGE DETAIL WoodPlus PVC, Reeded
FINISH - Kona



Rectangle desk extension with credenza,

file cabinets, hutch with tackboard

EDGE DETAIL - WoodPlus PVC, Smooth

FINISH - Kona




Conferencing desk with ped return, hutch with

tackboard, storage tower

EDGE DETAIL - WoodPlus PVC, Neo Classic

FINISH - Kensington Maple




Rectangle desk extension with storage credenza,

wall mounted overhead, tackboard,

storage towers

EDGE DETAIL

- WoodPlus PVC, Smooth

FINISH

- Kensington Maple

Series Fifty Office Credenzas
Series Fifty's office credenzas may be used in concert with worksurfaces to create extended work areas or are substantial enough to stand alone. Contemporary expectations for form and function are complemented by WoodPlus finishes and sleek pulls. Available with concealed shelving, standard and file drawers, and multi-use bins, Magna has refined standard storage with their redesigned credenza. Rectangle surfaces, Multiple storage cabinets and recycle bins.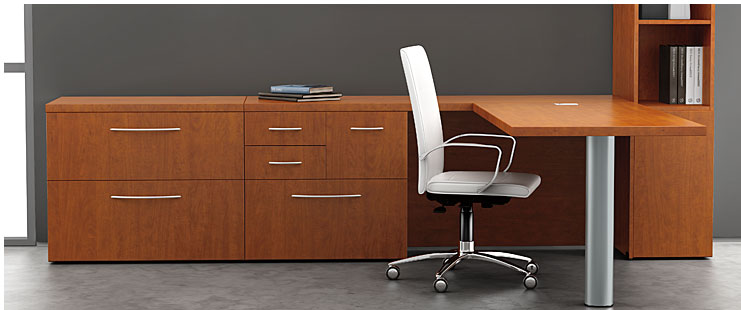 Series Fifty Office Storage
When available, the lower storage units, such as pedestals, combo cabinets, lateral files, door and open storage provide the top support. Hutches, available open or with flipper, hinged and glass doors add both practical storage and design features to the office layout. Storage towers offer a variety of storage choices as well as multiple design possibilities incorporating hinged doors, glass doors with WoodPlus or Aluminum frames. Pieces include: Hutches, Laterals, Storage Towers and Overheads. The office storage is available with wood doors, flipper doors or glass doors.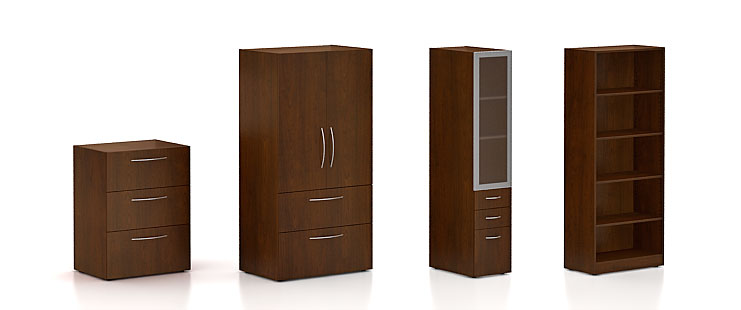 Series Fifty Accessories - Series Fifty seamlessly incorporates power and data connections with wire managers and panels - beautifully concealing cords and connections. In addition, Series Fifty's array of office furniture screens gives you the flexibility to create privacy in shared spaces. Designed as multi-use pieces, privacy screens are tackable and hutches may be augmented with mounted fabric panels for storage and display. Each accessory complements Series Fifty's transitional design aesthetic. Hutch and Wall Mount Fabric Panels, Multiple Desk Accessories, Tackable Privacy Screens.